Welcome to the Passiflore
**Logis hotel with a swimming pool in Cognac in the Charente
Let us guess ... You are here because you are looking for a hotel for your business trip or your holiday in Charente near Cognac!
Well, you've come to the right place!
Sébastien and his team are pleased to present their **hotel Le Passiflore ideally located a few minutes from the town center, the tourist office and Cognac station, in the heart of the Charentais vineyards.
Air-conditioned, comfortable rooms at Hôtel le Passiflore
Together with Dany and Martine,  they are committed to sharing their values of hospitality, friendliness and warmth in the comfort of their hotel. Here you will find 19 fully equipped rooms, a generous Breakfast Buffet and a swimming pool.
So, hesitate no more !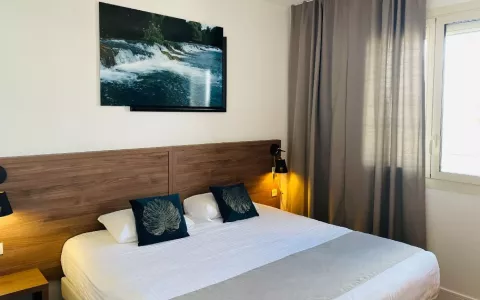 The rooms
Comfortable, air-conditioned rooms, renovated in 2023.
For a stopover, a weekend, a stay with family, friends or colleagues, half board, we open the doors of one of our 19 fully equipped rooms with all the modern comfort necessary for your well-being.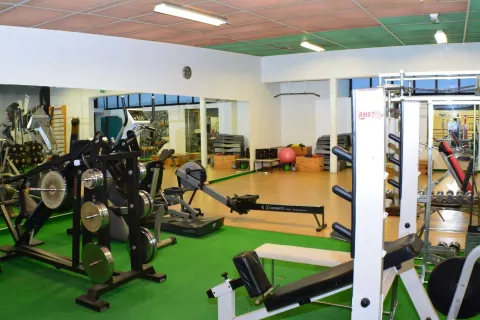 La Belle Allée gym
Just 2 steps from the hotel ! A relaxed, family-friendly venue with a super-friendly welcome.
Literally a few steps from the hotel, our guests have free access to the La Belle Allée weight room.
Opening hours :
Monday to Friday 9am to 2pm and 5pm to 8:30pm
Saturday 10am to 12:45pm
Brasserie Au Bureau, Restaurant Partners
300 meters from the hotel.
Brasserie Au Bureau is one of our partners. Just 300 metres from the hotel, it's within easy walking distance.
Enjoy warm, generous dishes. 10% discount on the bill for our guests!
For Soirée Etape (business travel only), you'll also find a Passiflore menu.
Discover Cognac
La Belle Allée gym (2 steps from the hotel!)
Just a stone's throw from the hotel, our guests have free access to the La Belle Allée gym.
A relaxed, family-friendly gym with a super-friendly...
Discover Cognac
Complexe sportif des Vauzelles Chateaubernard Cognac
The Complexe Sportif des Vauzelles in Chateaubernard, on the outskirts of Cognac, hosts a number of major sporting events.
Prestigious competitions...
Discover Cognac
Discover Cognac
Hennessy, a legendary trading house to discover in Cognac en Charente.
At Hennessy, cognac is raised with kindness and care, exacting standards and...
Discover Cognac
Cognac Tourist Office
Cognac Tourist Office. Discover Cognac and cognac, Events calendar, Stays and weekends in Cognac.
Discover Cognac
Cognac Drouet at Salles D'Angles
An aspiration to be exceptional
Tradition, love of the land and its roots are all notions that stick to the skin of the Drouet family. For...
Discover Cognac
Cognac and Pineau Danjou
Maison Danjou is one of our favorite winegrowers. A family business combining tradition and innovation. They'll be delighted to welcome you and...
Discover Cognac
Golf de Cognac
A friendly, welcoming golf course.
Discover Cognac
Cognac Blacksmith in Segonzac
From the vine to the bottle, come and share a moment with us and discover the vine, winemaking, distillation and ageing cellars, all interspersed...
Discover Cognac
Maison Martell
MARTELL TOURS, A UNIQUE IMMERSION IN THE OLDEST OF THE GREAT COGNAC HOUSES, FOUNDED IN 1715.
The tour begins at the foot of the "Founder's...
Services and equipment
From the hotel
| | | | |
| --- | --- | --- | --- |
| Free private parking | Free wifi | Air conditioning | Bar |
| Partnair restaurant | Stage evening | Outdoor swimming pool | Meeting and seminar rooms |
| Pets allowed | Bike room | Sports hall | Canal +, Cable channels, Satellite |
| Safe | Courtesy tray | | |
Hotel opening times
Reception opens at 4pm
Check-in: from 2pm (Call us to receive access information by text message)
If you expect to arrive after 7.30pm, please contact us.
Check-out: until 11am